The children arrive at the camp on Sunday at 2 pm. Check-in takes place immediately and the campers are assigned an AC Milan Academy uniform so they can arrive at the field properly dressed for their first afternoon training. They leave the hotel to go to the soccer field at 4 pm. This training is mainly to introduce them to their coaches and give them their first instructions on the rules of the camp and the behavior expected of them.
On Friday evening, the last evening at camp, there is a party with parents where they can see the DVD made during the week. Players and teams showing exceptional skills on an individual level and in group tournaments that take place in the afternoons from Monday to Friday are awarded cups and medals by the camp staff.
Saturday morning the campers play friendly 11-on-11 matches and before lunch, the staff gives them the AC Milan certificate of attendance at the AC Milan Academy Camp. The camp ends at 1:30 pm after lunch. Finally a special award is given to the campers that have demonstrated good behavior at the hotel by keeping the rooms tidy and showing respect for everybody: the prize for "the best room" is a soccer ball for each member of the room.
A typical schedule for the MJC includes two training sessions per day, one in the morning and one in the afternoon. Each session is two hours long. The rest of the day is filled with entertainment and recreational activities (TV room, group play, karaoke, mini golf, swimming when possible, etc.).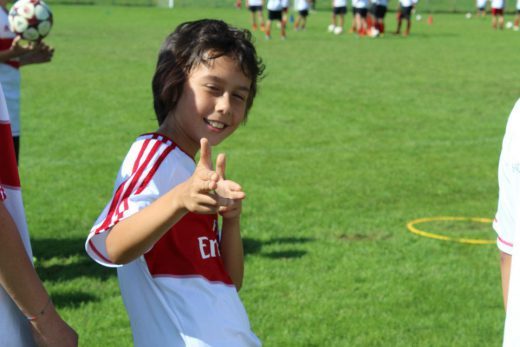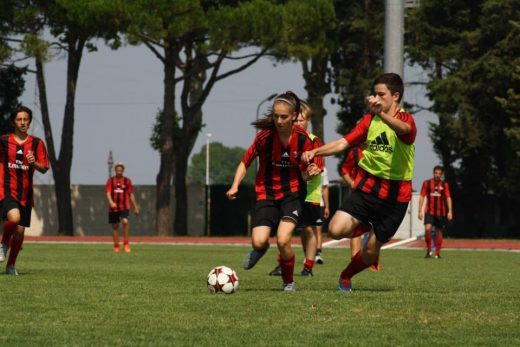 For example, a typical day would be as follows:
08:00 am

: Wake up

08.30 am

: Breakfast

09:30 am

: Field (technical training)

11:30 am

: Stop training and shower

12.30 pm

: Lunch

1:30 pm

: Free time for games, play, relaxation

3:30 pm

: Field (training and games) or beach

6:00 pm

: Stop training and shower

7.30 pm

: Dinner

8:30 pm

: Evening entertainment (or at the field)

10:30 pm

: Lights out
DAY CAMP package: In this case the camper does not stay overnight in the hotel, which is frequently the case if the camper lives in the town where the MJC is held. The camper arrives at the hotel every morning at 8:45 am. He/she then leaves for the soccer field with the rest of the group and returns to the hotel after showering after the second training held in the afternoon (6:30 pm) or evening (9:30 pm).